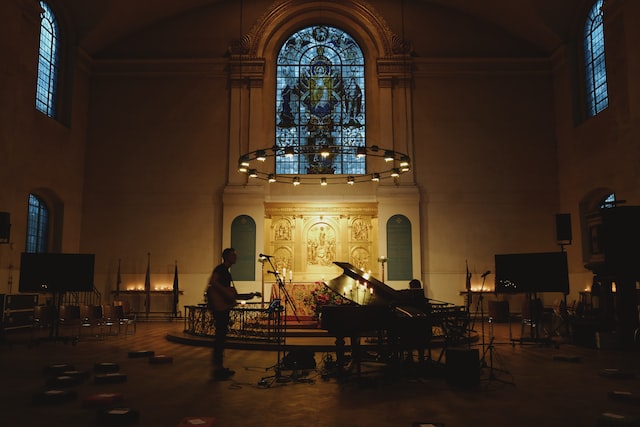 Catholic songs and movies for lent can help enhance your spiritual experience this Lenten season. Let's examine: what exactly are you giving up for lent? There's so much to give up, but is there some to gain as well? I wonder, what exactly would make it a true challenge?
For me, it's always the music I listen to or the TV that I watch. I oftentimes enjoy songs from the '80s '90s and '2000s that don't always jive with my Catholic faith. Either the lyrics go against it, or the artists themselves don't lead a public Christian life. So for this lenten season, I've decided (among other things) to give up that "bad" music and TV. But I plan to gain something as well.
My plan is to only incorporate Catholic songs and movies for lent, this means I will only listen to and watch as many Catholic and Christian tv shows, movies, and music as I can. Though I do plan to limit how much, I will resolve to take a break from listening to and watching the worldly secular side of the entertainment industry. Here's a short list of songs I intend to listen to and movies I intend to watch.
Note, not all of the following are Catholic songs and movies for lent. Some are Christian but I will try my best to only focus on Catholic songs and movies for lent
Catholic Songs and Christian Songs (not in any particular order)
Hail Mary, Gentle Woman – Donna Cori Gibson
Hail Mary, Gentle Woman – Sunday 7pm Choir
Ave Maria – Sunday 7pm Choir
Here I am Lord – John Michael Talbot

One Bread, One Body
Anything John Michael Talbot

How Great Thou Art – Chris Rice
On Eagle's Wings – Jaime Thietten
We Are Called – Michelle Sherliza
Psalm 19: Your Words, Lord Are Spirit and Life – Bob Hurd, Craig Kingsbury & Rick Modlin
In the Light – DC Talk
Who Am I – Casting Crowns
Be Not Afraid – Kitty Cleaveland
You Raise Me Up – Jamie Biller
You Raise Me Up – Jamie Biller
Here I Am, Lord – Collin Raye
I Am the Bread of Life – Robert Kochis
You Raise Me Up – Selah
The Memorare – Lorraine Hess
The Battle Belongs To The Lord – Maranatha! Promise Band
Magnificat – Lori True
You Are Mine – Walkers to Heaven
Worthy Is The Lamb – Ricky Manalo CSP
All To Us – Hallal Music
Hail, Holy Queen – Josh Blakesley
Movies (not in any particular order)
The Passion of the Christ (2004)
The Sound of Music (1965)
A Man For All Seasons (1966)
Jesus of Nazareth (1977)
Thérèse (2004)
Braveheart (1995)
The Miracle of Our Lady of Fatima
Pope John Paul II (1984)
Molokai: the Story of Father Damien (1999)
Brother Sun, Sister Moon (1972)
Joan of Arc (1948)
Angels In the Outfield (1951)
The Greatest Story Ever Told (1965)
he Singing Nun (1966)
King of Kings (1961)
Francis of Assisi (1961)
Faustyna (1995)
Padre On Horseback (1977)
Final Thoughts
I pray that these catholic songs and movies for lent (not all of which I've watched but intend to watch) will help enhance your faith. Lose the secular side of the things we use for entertainment and gain a more spiritually enhancing side.
Note there are plenty of songs not on this list but these are my first few go-to songs on a rainy day or when I need Christ's presence to be felt in my life. I really hope this helps you get some good prayer time and family time this Lenten season!
For a more hands-on approach, try this awesome resource with Popular Lent Hymns List